'95-'98 911 Carrera/Turbo™ (993)
In terms of setting the standard for good-looking and fun-to-drive vehicles, the 911 Carrera is, in our biased opinion, the car out there that consistently turns heads and floors passengers back in their seats. Whether brand new just off the lot or a tried-and-true classic such as the 993 series, every 911 Carrera and Carrera Turbo ever produced is just fun to drive and fun to own. That's one of the many reasons why HOUSE Automotive enjoys working on these incredible machines — we know that we're supporting a machine that brings you joy when you drive it.
Replacing the iconic 964 model, the 993 marked the end of air-cooled 911 Carreras across the Porsche brand worldwide. HOUSE Automotive also respects and acknowledges the fact that the 993 is, more or less, considered as the best and most desirable model of the 911 series — which is saying a lot! When you consider the pure beauty and jaw-dropping raw performance (even by today's standards) of such a vehicle, what you're left with is what many Porsche enthusiasts call the "King of Porsche" and "the last complete 'modern classic'." We agree.
To no surprise, Road & Track magazine even wrote an April 2017 article highlighting the true beauty of this high-performance machine. Believed to be built during a golden age for Porsche during the heart of the 90s, writers from the magazine even described the 993 as a car that "actually lives up to the hype." Which, again, is quite the statement when you consider that many cars are hyped up, to say the least.
Truly, the 993 is a special machine that requires special maintenance from a team of classic Porsche service specialists in Pasadena that you can trust. At HOUSE Automotive, we firmly believe that we are that team. Read more below about what service items to keep in mind for your valuable 993, and feel free to get in touch with us directly with any questions about upkeeping your classic 911 Carrera.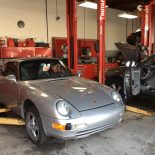 Recommended yearly service intended for vehicles that accumulate low yearly mileage between required service intervals.
Change engine oil
Oils and fluids: Visual inspection for leaks
Diagnosis system: Read out fault memory
Parking brake: Check free travel of parking-brake lever
Brake system: Visual inspection of brake pads and brake discs to check for wear
Brake fluid: Check level
Steering gear: Visual inspection of the bellows for damage
Tie rods: Check play and dust boots
Ball joints: Visual inspection of dust boots for damage
Drive shafts: Visual inspection of boots for leaks and damage
Exhaust system: Visual inspection for leaks and damage; check tightness
Tires and spare wheel: Cheek Condition and correct tire pressure
Seals for doors, hood and roof: Remove rubber residue from body seal contact areas, apply suitable lubricant
Vehicle lights: Check operation and headlight alignment
Windshield washer, headlight washer: Cheek fluid level, nozzle aim and washer fluid anti-freeze protection level for the winter season and check wiper system operation
Battery: Check electrolyte leve! and hydrometer test
All other electrical equipment as well as indicator and warning lights check operation
Required maintenance and lubrication service every 15,000 miles / 24,000 km
Change engine oil (no filters required)
Diagnosis system: Read out fault memory
Anti-pollen filter: Replace filter element
Oils and fluids: Visual inspection for leaks
Air filter: Check and if necessary replace
Crankcase ventilation: Check tightness of hose connections
Fuel system: Visual inspection for damages, clearance and tightness of line connections
Intake air: Check hoses, lines, and connections for tightness
Parking brake: Check free travel of parking brake lever
Brake hoses and lines: Visual inspection for clearance, damage and corrosion
Brake fluid: Check level
Brake system: Visual inspection of brake pads and brake discs to check for wear
Clutch: Check play or final position of clutch pedal
Throttle linkage: Check for smooth movement and full throttle opening
Resonance flap and Varioram: Check operation (Carrera only)
Steering gear: Visual inspection of the bellows for damage
Tie rods: Check play and dust boots
Power-assisted steering/clutch: Check fluid levels
Ball joints: Visual inspection of dust boots for damage, check tightness of wheel alignment adjustment/mounting bolts
Manual transmission/axle drives: Check oil level
Automatic transmission: Check fluid level
Drive shafts: Visual inspection of boots for leaks and damage
Exhaust system: Visual inspection for leaks and damage, check tightness
Tires and spare wheel: Cheek condition and correct tire pressure
Door hinges: Lubricate
Door locks, hood locks and safety hook on front hood: Check that they are adjusted and function properly
Seat belt: Check operation and condition
Seals for doors, hood and roof: Remove rubber residue from body seal Contact areas, apply suitable lubricant
Vehicle lights: Check operation
All headlights: Check Alignment
Horn: Check operation
Windshield washer, headlight washer: Check fluid level, nozzle aim and washer fluid freeze protection level and check wiper system operation
Check operation: All electrical equipment, indicator and warning lights
During road or dynamometer test:
Brake pedal, parking brake, clutch, automatic speed control, steering, heating, air conditioning and instruments: Operations test
Oils and fluids: Visual inspection for leaks
Additional service every 30,000 miles / 48,000 km
V-Belt and Polyrib belt: Check condition and tension
Replace sparks plugs
Air filter: Replace filter element
Replace both engine oil filters
Automatic transmission: Change ATF and ATF-filter
Drive belt for power steering pump: Check condition
Additional service every 60,000 miles / 96,000 km
Manual transmission and axle drives: Change oil
Automatic transmission: Change oil in differential
Fuel filter: Replace
Service every 3 years
Brake system: Change brake fluid (only use Genuine Porsche Brake Fluid)
Service after 4, 8, 10 and then every 2 years
Air bag supplemental restraint system scheduled maintenance
Services: