What does your dream Porsche look like? For Alex Cotraviwat, it looked an awful lot like one of Porsche's coolest (and most exclusive) vehicles — the Porsche 911 GT3 Cup. While you may know that the GT3 Cup is Porsche's most-produced race car, what you might not know is that it's still incredibly difficult to get your hands on one. In fact, the team at Super Street sums it up rather nicely by noting that "Porsche Motorsport doesn't exactly have a catalog or website available where you can order parts."
In other words, for the average person to get their hands on a GT3 Cup car is pretty much impossible — unless you're willing to make it happen another way.
Cotraviwat's Cup-Converted 991 GT3
Porsche enthusiasts know that the standard 991 GT3 is no joke. After all, with specs like:
475hp 3.8 liter, 6 cylinder engine

Electromechanical power-assisted steering with variable steering

197 mph top speed

Highly aerodynamic design with favorable drag coefficients
it's sure to be a car that keeps Porsche fans up at night.
Alex Cotraviwat's stock 2016 911 GT3 was truly a thing of beauty, but for Alex, the dream was to transform his already-cool car into something all his own. That's why, after years of modifying his vehicles, Cotraviwat, "despite having the money to purchase the more powerful, lighter weight and more dedicated GT3 RS track car, invested in a GT3 and used the leftover funds to source the extremely rare aero from the GT3 Cup car."
How It Happened
But wait…we mentioned above that you can't just order parts from Porsche because their parts aren't for sale unless you're on a race team. So how did Cotraviwat transform his Porsche? With some intentionality and some luck.
Cotraviwat had heard about a kit that a nearby race team was selling due to a season-ending crash and that they were trying to sell their aero kit. Needless to say, he spent the $50,000 the team was asking for to get a front bumper, fenders, flaress, hood, and more. 
Next, he outfitted his car with specialized seats and BBS E07 wheels — which took months to complete, but ultimately made the entire car absolutely perfect.
Be sure to head over to Super Street to read more about Cotraviwat's super cool 911 GT3 Cup conversion. They sum the end result of Cotraviwat's conversion up brilliantly: "We're sometimes hesitant on road cars with full race liveries but witnessing this Cup-inspired GT3 make several passes down Sunset Boulevard, it's simply breathtaking to see in person, and we can only imagine it must be just as surreal for Alex."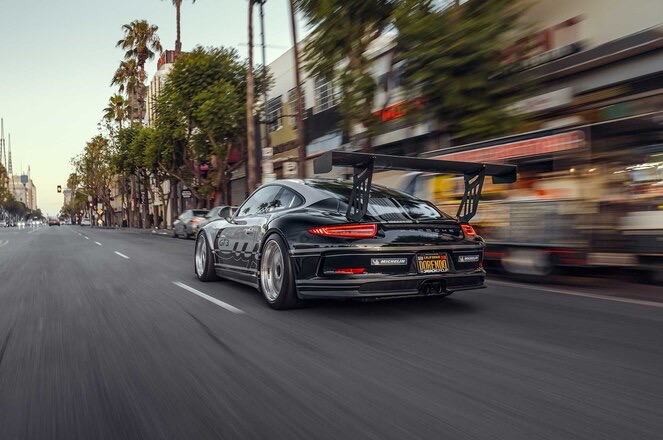 Visit Our Team of Pasadena Porsche Specialists
At HOUSE Auto Group, we pride ourselves on being the go-to independent Porsche specialists. With locations in Encino and Pasadena, you can rest assured that whether you're in need of a complex repair, a pre-purchase inspection, factory maintenance, or something else entirely, we'll go above and beyond to make sure the job gets done the right way.
Don't trust your Porsche to just anyone. Schedule an appointment with the experts at HOUSE today when you need to be certain that you're working with the best Porsche mechanic in California.